Naturally Sweetened
Where wholesome cuteness meets vintage charm
Artist-designed. Unique & Adorable. Made with Love.
Every image featured and every item produced is crafted with love and attention by a devoted artist.
About Sugar Bunny Shop
Sugar Bunny Shop began as a small online shop offering hand-made items and has grown considerably since it was established in 2009.
It started with designs and motifs inspired by the kawaii style of Japanese culture, focusing primarily on bold & simple characters and food themes, and has shifted in nature along with the artist that runs it. The shop is now host to the soft, fuzzy and flowery vintage-inspired creations by Celesse.
It is run out of Virginia Beach, VA primarily as a wife and husband team, and is also supported by friends and other family members. All proceeds go directly to supporting the artist and funding new products, projects and other endeavors.
You can follow the shop accounts for product-only updates: Twitter - Instagram - Facebook
Made with Love

Every item is designed, sampled and produced with attention and care by a single artist

Quality Goods

Small, independent business with a focus on offering special runs of high quality items

Sustainability

Making every effort to reduce plastic and use recylable materials whenever possible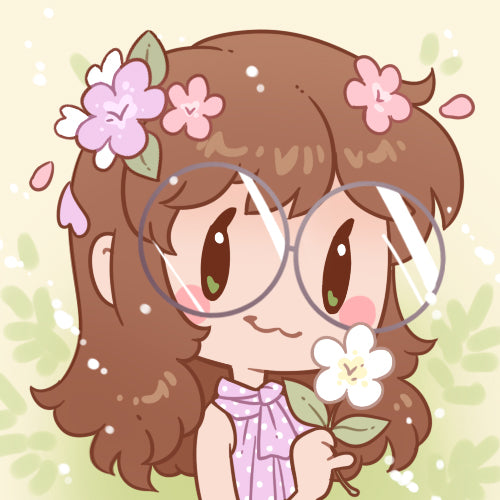 About the Artist
Hi, I'm Samantha, also known as Celesse. I began drawing as soon as I was old enough to pick up a pencil and I never stopped!
In recent years I have found a passion for nostalgic themes from bygone times, including vintage-styled illustrations and old fashioned logos with country charm. I endeavor to incorporate these warm feelings of nostalgia into my art in a way that everyone can enjoy.
I'm a disabled artist afflicted with chronic arthritis that makes movement difficult and I live with daily pain, so I work from home and rely solely on my art to earn a living. When I started my career I began with freelance, but after a few years I discovered a passion for graphic design and product creation, so I eventually decided I wanted to make my own line of merchandise.
I started out with a small print-on-demand shop, which I ran for several years until I had earned enough money to begin investing in getting my own merchandise produced. I then learned the ins and outs of everything related to running your own business, including product research and design, branding, website coding, customer service, working with manufacturers and even shipping and handling. It's a difficult but very rewarding experience!
I've been creating artwork all my life and offering quality items made with my work for over 15 years now! My art has always been a labor of love and it makes me thrilled that so many people enjoy the things I create.
Follow the artist for new art and updates!